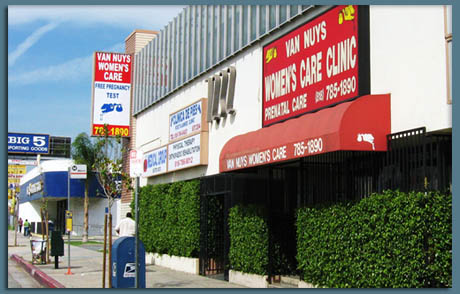 With the help of my friends
Justin Edwards
,
Patte Smith
, and
Starla Tracy
, I learned of another abortuary just 16 miles from my home, the
Van Nuys Women's Care Clinic
. While a manager of this clinic insisted that this particular office does not perform abortions, she affirmed
Dr. Payman P. Joseph
works in the building.
Listen to our conversation
.
The Van Nuys Women's Care Clinic lists some of its services on the front window, including "family planning," which is code for "we encourage women to abort their babies." It appears (although not yet confirmed) that the downstairs clinic might provide clients for the upstairs clinic (suite 202),
My Choice Medical Center
.
Callers spoke with two women who answer the phones, Claudia and Etta. They kill seven days a week. There are NO pro-lifers there. Etta laughed and said:
"No. We haven't had any people like that around here for a long, long time."
They murder babies up to 13 weeks gestation. Any mother who wants to abort over 13 weeks is sent to the
Planned Parenthood
across the street.
Here's the abortuary's pricing for murdering children:
Under 9 weeks $600
10-11 weeks $700
12-13 weeks $1000
Weekend murders are "upon request" and cost an extra $500.
And here's the killing schedule:
Monday 9-3:30
Tuesday 1-3:30
Wednesday 9-12
Thursday 1-3:30
Friday 9-3:30
Saturday 10am
Sunday 10am
One of the clinic workers boasted with laughter that there has been no pro-life presence in front of this killing place for quite some time. Well, that ended yesterday! I stood in front of the clinic for about an hour holding my
"Babies Are Murdered Here .com"
sign.
I hope to spend time multiple days each week in front of this place of death. Please pray for me, and join me if you can.